Saturday John and I left for Dallas to go to the Seattle Sounders/FC Dallas soccer game. He got me pumped up about going because of the really good incentives that were offered (Free Drew Carey glasses AND a possible chance to play Plinko at halftime). I asked him if the Actual Drew Carey was going to be there and he told me "Um no. Why would he go to a game in Dallas? Dallas is the worst team in the league." Okay, no biggie, it will still be fun.


So we got there and got our free glasses and decided to take some fun pictures: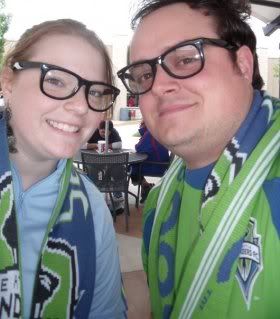 It was really funny b/c everyone in the stadium was wearing these glasses. Everyone looked ridiculous, but it was cool because despite looking stupid, everyone wore them anyway. So as we are laughing at how much dumber the little kids looked in them (b/c they were way too big) John spots one of the VIPs from the Sounders' Club. (This is how the conversation went:)
John: "See that guy over there?"
Kate: "No." (I am barely even paying attention because I'm reviewing our pictures we just took.)
John: "That's one of the team owners or Big Wigs. You can tell because he is wearing one of the official warm-up jackets. See how that one has two stripes under the arms? I think that guy's name is..... OMG THERE'S DREW CAREY!!!!!!!"
Kate: "Where?"
John: "Right there."
Kate: "I still don't see him."
John (Shouting): "RIGHT THERE IN THE SOUNDERS JACKET WITH THE SCARF."
Kate: "Oh. Neat. Go ask him for a picture for my blog.":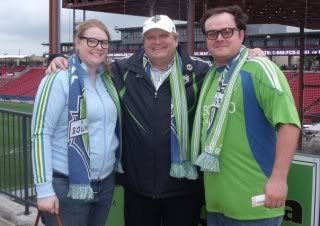 As you can see, Drew was not wearing Drew Carey glasses. We, who looked like idiots, were. I hope he wasn't offended and didn't think we were weird. He goes on to ask us why we were Seattle fans (via his Flip Mino video camera, just like the video camera I have) and we had a 2-3 minute conversation with him. John doesn't let me speak during this time for fear of embarrassing him. Drew asked us our names and John said "Adam Hester and Kate Warren." I can only get out "Hi I'm Kate" during the meeting because John is talking so quickly. He claims that he was excited/nervous but whatever. I've met SO MANY famous people that I'm okay with not talking to him (typed with a hoity-toity voice in my head). Joking.
The game was a little disappointing since it was a draw but I did get to showcase my scarf:
It was a fun little trip and I can't wait to go to the home game in Seattle. I'm bringing my glasses with me.