This entry is inspired by the most domestic: Kristen Blair. I would say that I'm not very well versed when it comes to cooking. I would also say that when I do get a wild hair and decide to make something at home, I usually do a Google search and find the least complicated recipe possible. That would be where I found this little spicy number:

Taco Soup (looks like vomit, tastes like heaven):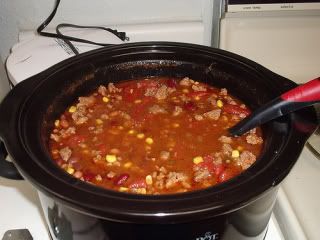 1 lb ground beef
2 cans whole kernel corn (drained or undrained if you want it to be soupier)
2 cans Mexican style tomatoes
2 cans Ranch style beans
1 pkg Ranch mix
1 pkg taco seasoning

Cook ground beef and drain. Add all ingredients and let simmer for 20 minutes or until it thickens.

The author of the recipe also included this little side note which I avoided:

This dish can also be prepared like a taco salad.
Tortilla chips topped with taco Soup, cheese, lettuce, sour cream and taco sauce or simply eat as a soup with tortilla chips.
ENJOY!

Seriously, easiest recipe of all time. And I got to eat on it for about 4 days!