Say hello everyone to the newest love of my life: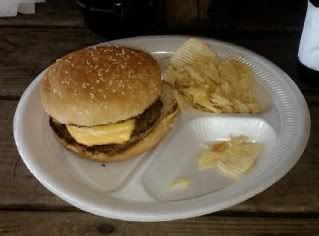 THE CUB BURGER!

Beginning about a month or so ago, The Cub (home of the best steak in the world as well as the best au gratin potatoes) started offering Burgers on the Patio Wednesdays.
I heard about this from someone on Facebook and decided that it was up to me to figure out if the burgers were as good as the steak. So my friend Mark (Thanks for the photo), Laura and I checked it out today. Those burgers are super delicious! And they are super cheap! For $7 (not including tip) you can get a dressed burger, chips, baked beans and a beverage (soda, though I saw SEVERAL people there with beers... which makes me think to self: "What do these people do for a living to where their employer allows them to drink on the job?" followed up with, "Must be nice!"). To me, that is a deal! Plus, you get to sit on the patio with a nice breeze, friends and regulars that you are sure to have seen at the Cub during any regular evening.