Now, I know in this day and age no one watches the Game Show Network. (Except me!) I love old reruns of Let's Make A Deal, Family Feud, Pyramid, The Newlywed Game, etc. John constantly nags me about changing the channel when I decide that I want to watch an episode of Lingo, which is one of their newer shows (hosted by Chuck Woolery, formerly of Scrabble. God, I loved that man growing up).

One day whilst perusing the Guide option on the Direct TV remote, I saw that a show called Russian Roulette was on GSN. I thought, "Wow, this HAS to be good." Let me just say that I was not disappointed. First of all, it's hosted by Mark Wahlberg: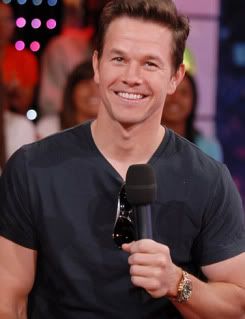 I knew that's the Mark Wahlberg that you were thinking of. But no, it's actually THIS Mark Wahlberg:
(If he looks familiar, but unplaceable, please refer back to the 90's when he was the host of Shop Til You Drop. It came on after Supermarket Sweep on Lifetime.) Apparently, Mark here has taken a career nosedive after that. Since STYD he has partaken in Temptation Island and Antiques Roadshow. I guess life threw him a bone, because now, like I said previously, he is the host of Russian Roulette.
I know what you're thinking. This show is probably about some sort of revolver with bullets and people die. Nah, too gruesome for GSN. It's actually a game where there are 4 contestants set above six trapdoors. They go around and challenge each other to answer questions (while completely trashtalking. Bonus!) If a question is answered correctly, a trapdoor is opened beneath them. The most trapdoors that can be opened are 5 (remember there are six total). So when a contestant gets a question wrong they have to pull a lever and thus the Russian Roulette starts. Sometimes they are safe and their trapdoor is spared, but other times you get this:
I apologize for the small photo. But please note that THE CONTESTANT DROPS THROUGH THE STAGE UNEXPECTEDLY AND IS NEVER SEEN FROM AGAIN!!!!
Seriously, THANK YOU Game Show Network. This is the most entertaining game show I have ever watched. Please, if you have a DVR, I beg of you... for guaranteed laughs, record this show and think to yourself "Wow, television can't get any better than this."