Readers, feast your eyes upon this little gem: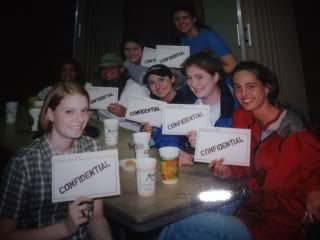 Please excuse the picture quality. Above is a little moment captured on film of my Senior Party. All of my friends at church and our mothers decided to throw us each a themed party for our last hoorahs. Mine was "Clue?" themed and was an absolute blast. We all went scavenger hunting all over town searching for mysterious envelopes in the pouring rain. Sigh. Good times.
PS. If you were wondering, in the photo is myself, Rebecca Dufrene Bogan, Laura Jo Caldwell, Krystalynn Culbertson Barre, Brittany Sanders, Jennifer Thompson Winterrowd, Katherine Ketchum-?????, and Leslie Elliott Procell.