Well, well, well. There are apparently more art lovers that read my blog than I thought. I am so proud that there was an overwhelming vote to visit the Louvre first after you arrive on your trips to Paris! And why wouldn't you, when you can see 'The Big Three' that the Louvre is famous for housing. These include: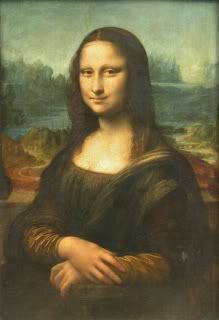 Ah, the beautiful Mona Lisa. Which, by the way, is not as large as you would think. She is actually around the size of an 11x14 inch painting. Which is TINY considering the rest of Leonardo DaVinci's work is GIGANTIC!!! Sigh.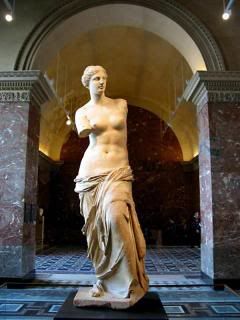 The enchanting 'Venus de Milo' (some know her as the 'Aphrodite of Milos') who was made around 120 BC and was found by some peasant rooting around in Greece in 1820. Turns out that, the French had to return their former most beautiful statue in the world (Medici Venus) to Italy after Napolean went and stole it from them. What an ass! Anyway, when the Venus de Milo was found, Parisian art critics promoted it to be the most beautiful statue in the world, thus gaining her (and France) worldwide fame. It's up to her viewers to make that call. However, she is absolutely breathtaking (I mean, if you like art and stuff).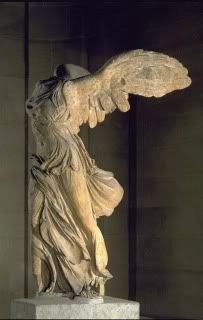 The last of the "Big Three" is what I call the 'Wings of Victory' but her actual name is 'Winged Victory of Samothrace' also called the 'Nike of Samothrace'. To me, Wings of Victory is just easier to say and remember. According to research, she was made to celebrate a naval victory in the city of Rhodes. She is famous due to her naturalistic pose as well as the rendering of her drapery to depict a strong sea breeze. According to Wikipedia, the wings were included to illustrate her descent from the skies to the prow of a triumphant fleet. She was made around 250BC and is considered to be one of the great surviving sculptural masterpieces from the Hellenistic Period. This sculpture probably has the best spot in the Louvre. She sits between two major corridors. One leads to the crown jewels and the other leads to the Mona Lisa. Can't get much better than that!
You are welcome for the art history lesson.
Not that you were wondering, but the first place that I went when I arrived in Paris 5 years ago (seriously, has it been that long?) was the Notre Dame de Paris Cathedral (which if you weren't aware means Our Lady of Paris in French.) Literally, we got off the plane, dropped off our luggage at the hotel and walked over immediately to Notre Dame (we had to stay awake to properly adjust to the jet lag). Notre Dame is one of the most beautiful places that I have ever had the pleasure to set foot in (it is considered to be one of the finest examples of French Gothic architecture.) It's treasury, which costs 5 euro to see, was definitely Top 5 of the things I saw while there. I will leave you with two of my personal photos from Notre Dame de Paris.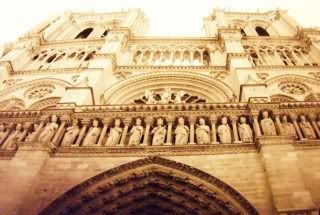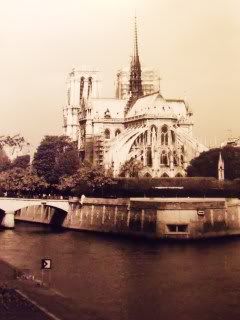 PS. Take the new poll on Britney! She is coming to Shreveport on September 19th!!!! My hopes are to be front row.