Over ten years ago, John picked me up for our first date (we were going to church) and he pulled up in the driveway and honked. In the pouring rain. Wasn't planning on coming to the door at all. My mother, myself and my friend Paige looked at each other in disbelief. He honked again. We continued to sit there and wait. Finally he came to the door. I haven't let him live it down since. I fear that my honk moment is on the horizon.

So, John and I are getting super excited about our trip to Seattle at the end of this month. I have booked the flights, and just a few days ago, I booked a hotel. We originally had a hotel that was going to cost us in the range of $1400 (is that too personal? Nah.) I thought that this was ASTRONOMICAL, but it was the hotel that John HAD to stay in because it was close to the part of town that he wanted to be. Well $1400 is nearly two mortgage payments for me and I am not going to pay that for a six day jaunt. So I started looking around for something that would end up costing us less. (We are cheap.)

I don't even remember how exactly I ran across this hotel, but I thought... for a total of $600 for six nights, and a block from PIKE PLACE MARKET (!!!!!!!), I do not need a hair dryer and flat screen with my room. So, I sent John a text saying, I found a hotel for $800 less than other room and he said get it. So I got it. I present to you The Moore Hotel: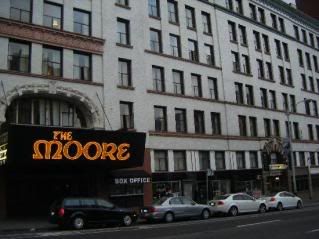 The Moore was built in 1907 and has a lot of history behind those walls. There is also a theatre attached to it (the oldest theatre in Seattle) which was apparently the place to be when it was built. Acts still perform there today. I thought all of this was pretty cool when I went and looked around their website after I booked the trip. There weren't many photos on the website, but I looked on Trip Advisor and there was a 4 out of 5 star average. I kept investigating and found three interesting, yet hilarious reviews:

Review 1: "The greatest thing about the Moore is that it has the Nite Lite downstairs so you can get completely shitfaced drunk and stumble backup to your room with a stolen plant from the bar and since you are still in the same building not feel remorse for stealing it. If you get the suite there is a lovely table on which you can place the stolen, yet not stolen, plant and admire it." - Drue from San Francisco A photo of said Nite Lite (which upon further investigating, seems like a West Coast version of the Tiki Tavern minus the karaoke!):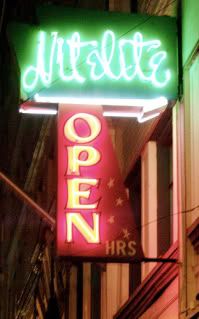 Review 2: "There are a lot of sites to see around the hotel, including the adjoining Moore Theater. I am going off on a tangent from the hotel a moment, but the theater is reputed to be haunted. During our stay, the TAPS team was at the theater investigating paranormal acitivity throughout the night. If you are unaware, TAPS investigations are aired on the Sci-Fi channel and can be pretty entertaining. Back to the hotel. The lobby and the rooms are very spartan, but we are not here to stay at the hotel all day. The rooms lack air conditioning, but the windows open! We also got to spy on the camera crew below, after our night on the town. Three stars for the hotel, one more added for the "celebrity sighting" of TAPS. And yes, we would stay there again." - April from Portland (Steph- I need to borrow your tape recorder.)
Review 3: "Once you're checked in, you might notice all the marble lobby with the art decoish furniture, the creepy hallways (different floors are painted different colors, but it all looks like something out of a twilight zone episode) and the view from the upper floors. The Moore is a 'historic' hotel, meaning that sometimes the tile in the bathroom is cracked and the floors creak and there aren't many modern conveniences, but none of that matters because it's got crown moldings and shit. The Moore Hotel is also cheap, and right downtown. Visitors with drinking problems will appreciate all the bars nearby; The Nite Lite is in the building, The Whisky Bar is across the street, and Shortys, The Virginia Inn, and The Blarney Stone are just a couple blocks away. I'd stay here again next time I'm in Seattle (which should be soon.) P.S. Room 618 has a really cool iron clawfoot tub, in which at least one Yelper has passed out in a bridesmaid's dress." - Matthew from Boston
A photo of said creepy hallway: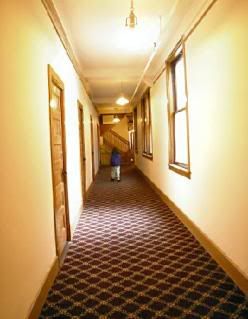 Two more photos... Photo #1 of a few amenities. Photo #2 of a nice little view: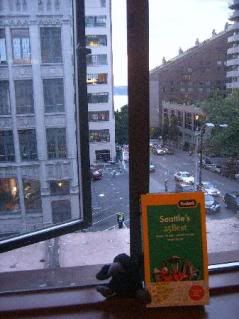 After further investigation and a few prayers, I decided that I am not worried. This looks like an upstanding, economical, historic, efficient (in terms of walking) and quaint decision that I have made. John may be slightly worried, but I am not. I am confident that this place will be fine and that we won't be attacked by zombies, or drunks and their plants.
However, if this is not the case, I am confident that this will be grounds for persecution for years to come.