Over the past week and a half, I have been bombarded with Facebook messages and text messages from two individuals asking for my and my mother's addresses. This can only mean one thing. Either someone is getting married or they are having a baby.

Now, for the record, I do not mind ONE BIT if someone that I know and like and actually hang out with gets married or decides to have a baby or whatnot. Receiving a shower invitation for one of those people is completely acceptable.

HOWEVER, if I haven't talked to you or seen you for at least 5 years (which, in this case, I haven't seen this person in over 6), DO NOT send me an invitation to one of your showers (unless we are related). People say that it is proper etiquette to send a gift to these people that send this stuff. Well is it proper etiquette to have to reach so far back in your mind to back when you remembered how to spell my name correctly and have a mutual friend ask me for my address so that I have to purchase a wedding/baby gift for you? Why would you want people that you no longer care enough to have a relationship with to have to get a gift for you and have to endure something such as this: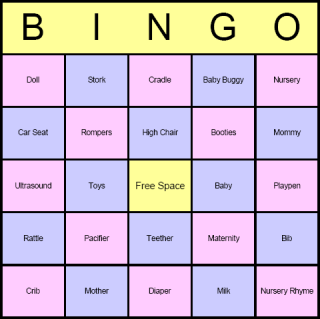 The only appealing thing on that entire Bingo square is the free space. And possibly the Milk square. Also, a side note. When Googling images of 'Baby Shower' this one came up.
What an inventive idea. It is an actual baby shower that you clip on to the side of the tub so that your child can do nothing but stand up so you can just hose him/her off. Also, I like the kid's afro.
Anyway, why should I (a single girl with no babies), have to purchase gifts for this married girl (who, for the record, didn't bother to invite me to her wedding) who is now knocked up? Why doesn't she have to get me a gift for leading a fabulous single life? I feel that SJP touched on this issue in an episode of Sex and the City. She had better just wait because whenever I decide to get married (not having babies), she WILL be recieving an invitation to a shower. And my gift had better be good!!!! Maybe that's the only reason why people actually get these gifts for other people. Because they want the favor returned. But what if I never get married? Then what?