Last night as I was sitting on my couch playing Solitaire, I noticed that an Oldie but Goodie was about to come on one of the movie channels. Coyote Ugly!!!!


What better could lull a girl off to sleep than the fairytale story of a young girl moving to the Big Apple with hopes of making it big?

Sidestory: I remember when this movie came out. I LOVED it. I wanted to be one of those girls when I got to college (I had just graduated high school when this came out and I just KNEW that I could do it. I mean I was the captain of the SILVER SPURS DAMNIT!!!) So I practiced my "Devil Went Down To Georgia" dance in my dresser mirror before going off to college and joining the BCM (Baptist Collegiate Ministry. They don't even BELIEVE in dancing. Bleh.) and therefore my slutty dream went out the window. Good thing that "Can't Fight the Moonlight" always takes me back.
So as I was watching last night, there are a few things that I noticed that I hadn't before. First of all, this is clearly a show that came out before Tyra Banks "retired," went psychotic, and decided she wanted to become a mini-Oprah. She was fun, thin, and really hot. Crazy how 9 years can change a person.
There are so many interesting things going on in this movie, I feel compelled to discuss something that is very NOT interesting. Even in the slightest. Her name is Piper Perabo. She could be the worst actress since Tori Spelling. Seriously, how did she get that role and more importantly what else has she done except Cheaper By The Dozen 1 & 2?

Also this is the first appearance on the big screen, to my knowledge, of Sweet Dee from "It's Always Sunny In Philadelphia:"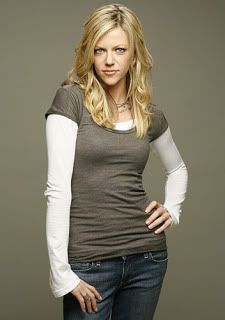 Sweet Dee here is the "bidding customer" who is trying desperately to win a date with "Mr. O'Donnell" at the bar. I love Sweet Dee and am so glad to see that she had such a great start in such a critically acclaimed role.

I also feel as though I should mention a trip taken to the Coyote Ugly in Las Vegas, but I think that is another story for another day. However, I will leave you with this photo as a preview and hopefully it will sum up everything I could mention, therefore saving us all a lot of typing and/or reading.